Our vision
A well-established construction leader in Lanaudière, Malo is a growing company. In order to further increase its efficiency and productivity, we will vertically integrate its activities. Thus, over the next five years, we will be able to double its turnover and its geographic reach. But this ambitious expansion plan cannot be achieved at the expense of our top priority: delivering quality turnkey projects on time and on budget.
Our values
Yesterday as today, our code of professional conduct is governed by values that are dear to us.
| | |
| --- | --- |
| LOYALTY | We are honest and faithful to our commitments |
| EFFICIENCY | We get maximum return for the efforts made. |
| PRESENCE | Our teams are punctual, reliable and dedicated to the task. |
| DETERMINATION | We are motivated and persevering, and aim to surpass your expectations. |
| EQUITY | We are fair and impartial. |
| RESPECT | We pay attention to others and treat them with respect. |
Our divisions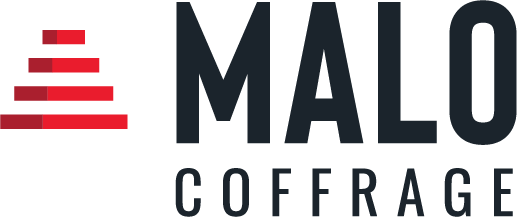 By combining our know-how and the expertise of the Malo Coffrage Inc. team, our mission is to build high-quality concrete structures in the residential, commercial and industrial sectors. We aim to break into the formwork market by becoming a major supplier in the Quebec industry, while keeping our top priority, the delivery of quality turnkey projects respecting pre-established deadlines and budgets.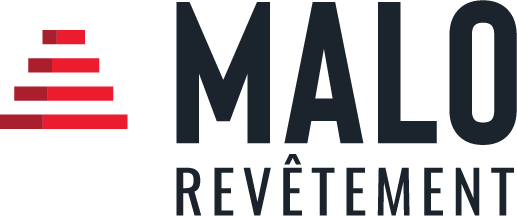 Specialized in the production and installation of exterior coverings. Thanks to its bending factory, it manufactures quickly and to measure all types of moldings. Created by Bernard Malo Inc., it benefits from a masterful strike force in order to serve its current customers and pursue its growth in the commercial, industrial, residential and institutional sectors. The delivery of quality projects in accordance with pre-established deadlines and budgets.
A favorable reputation is forged over the years through consistent actions in line with the values in which we believe. It also stems from achievements recognized by a given community. By this definition, our reputation is doing very well!
Social responsibility
At Malo, we believe that the built landscape must be at the service of citizens. So, as entrepreneurs helping to shape communities, it has always seemed natural to us to listen to them in other ways as well. This is why we have generously supported so many events, causes and organizations for years. Here are some examples of this support, which are not exhaustive.
In the Lanaudière cultural sector, we have provided financial support to the Desjardins Cultural Center, in Joliette, the Joliette Art Museum, the Lanaudière International Festival, as well as the Joliette Christmas market.
We also honored a major financial commitment with the Esther-Blondin College, in Saint-Jacques, and supported the Foundation of the College of the Assumption and the Foundation of the Samarres, dedicated to perseverance in school.
On the Outaouais side, we favored the Fondation du Collège Nouvelles Frontières in Gatineau.
Finally, the Canadian Cancer Society and the Lanaudière Northern Health Foundation also received our donations. Attentive to local social issues, we have contributed to the fundraising efforts of Centraide Lanaudière, the Roland-Gauvreau youth shelter in Joliette, and Parrainage Civique Basses-Laurentides.
AWARDS AND AWARDS
We do not compete, but we appreciate that our expertise and skills are so often recognized by our industry. Here are some of the awards Malo has won in recent years.
Business of the Year Award, Mauricie, Bois-Francs, Lanaudière and Center-du-Québec regions, awarded by the Quebec Construction Association.
Award of Excellence, "Stairs / Architectural Walkways" category, for the bicycle bridge project on Vessot Island, awarded by the Canadian Institute of Steel Construction.
Award of Excellence, "Industrial Building" category, awarded by Cecobois. Malo was the joint winner for his participation in the Masson-Mascouche drinking water tank project.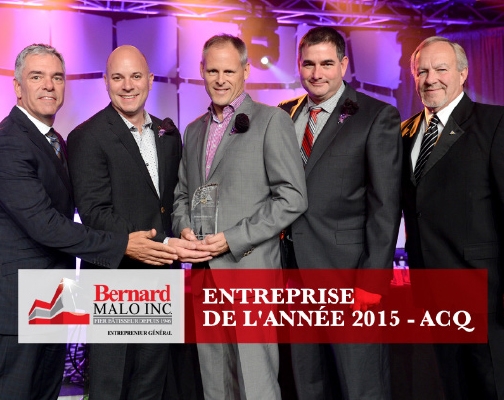 Our history
Construction and entrepreneurship have been part of our family's DNA for five generations. From father to son, the same quest drives us: that of excellence, a guarantee of success. In a few milestones, here is our story.
In the 1930s, Eugène Malo, a construction entrepreneur, taught carpentry to his son Bernard on his construction sites.
Bernard Malo settled in Joliette where, with the entrepreneur Lucien Durand, he participated in the construction of the Saint-Anselme college in Rawdon.
Bernard Malo founded the company Malo & Frères with Florent and George-Étienne.
Bernard Malo starts his own business: Bernard Malo Construction. He specializes in the construction of residential housing, schools and churches, especially in the Christ-Roi district of Joliette, where he resides.
The incorporation of the company under the name of Bernard Malo Inc. marks an important turning point in its history. In the years that followed, Paul and André joined their father. Then began a period marked by major projects such as the reconstruction of the Joliette Seminary (now Cégep), in 1958, and the construction of the Mauricie General Hospital, in Shawinigan, from 1968 to 1970.
Des années 1980 aux années 2000
In the late 1980s, David's son David followed in the footsteps of his father, uncle Paul and grandfather Bernard. As a young student, he first worked for the company in the summer, as a laborer. He then held the positions of appraiser and foreman. In 1998, having obtained a Bachelor's degree in construction engineering from the École de technologie supérieure, in Montreal, he was appointed project director, a position he held until 2005.
David joins his father and uncle in the management of the company as vice-president of Bernard Malo inc.
David acquires the family business. Surrounded by a solid and winning team, he develops its expertise and multiplies its success.
Always flourishing, the company updates its brand image. True to the values ​​that successfully guided his father, uncle, grandfather and great-grandfather, David is implementing an ambitious expansion plan.
The future also looks promising with the succession already assured. Indeed, Olivier and Ève Malo each follow in the footsteps of their father David.